QUEST FOR SUCCESS
Jul 20, 2020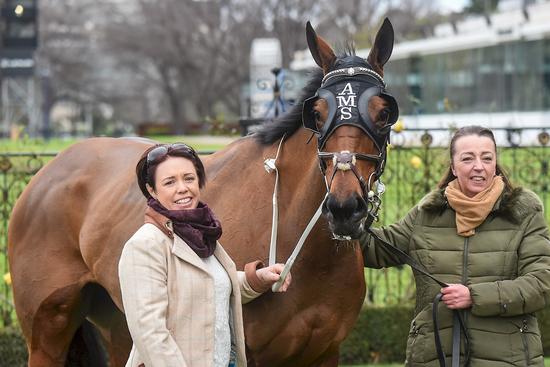 Twelve months ago Allison was, as always, proud of the gallant performance of her talented mare El Questro as she finished off gamely to run second in the Rising Stars Final at Flemington.
But Allison could not help but ponder on what might have been if the five-year-old had enjoyed a better run, if she had not been pushed wide… would she have that elusive Flemington victory on her resume?
Fast forward a year and El Questro was back at headquarters for another crack at the $100,000 feature. But whilst last time she was coming off great form including a dominant Sandown win and a close Leilani Final second, this time things had not quite gone to plan.
On the comeback trail having been away from the track for nine months after having bone chips removed from her fetlocks, El Questro had run such nice races at her first two runs back and she looked nicely placed for a second crack at the Leilani Final.
But her usual zest was not there… she was far from disgraced beaten five lengths into sixth placing but she was not full of running as expected and upon getting back to her stall was not herself.
"We kept walking her but she just couldn't settle," Allison said, ensuring that the club vet cast her eye over the mare before the journey home.
Whilst it is still uncertain just what was wrong with El Questro - a mild case of colic the most likely possibility - it was a relief when she bounced back quickly, back to her happy self by Monday.
Given a quiet week, El Questro was in fine fettle heading back to Flemington two weeks later - that being last Saturday where she again took her place in the Rising Stars Final, in-form apprentice Teo Nugent taking the ride.
After jumping well from barrier four, El Questro slid to the lead at the 1100m - Nugent taking advantage of a lack of early pace. And from there she was able to dictate.
So full of running heading into straight, El Questro had her supporters on their feet half way down the straight and as the line approached she was getting further in front - her winning margin a soft three lengths.
Allison had to watch those final moments through tears - "I was crying before the line," she laughed, "I did a Chris Waller!"
Her first ever winner at the track everyone wants to win at, the world famous Flemington. In the colours of her friend and former trainer Rob McGuinness, with a mare she bred from a family she has raced and trained for years.
Does it get any better than that?
Well yes it does a bit - the trials and tribulations along the way making the win all that sweeter - and satisfying.
"My tears were ones of relief," Allison said, recalling the times when she thought the road back for El Questro would be just too tough.
"She put on 100kg in the six weeks post surgery," she said, admitting that she was "a little worried" about getting the mare back into peak racing fitness.
But, aided by patient owners and great people behind the scenes, Allison was able to get El Questro back, never rushing her, always having her welfare and happiness in mind.
The likes of Dr Stuart Vallance (who performed the surgery), the staff at Fulmen Park (conducted her rehab) and Chelsea Hall (rides most of her track work and "plays a huge part") have all contributed, Allison grateful to each of them - and to El Questro's owners who have never been in any rush with their talented mare.
Now the winner of five races and just over $220,000 in stakes, El Questro was bred by Allison and Rod Pearse out of the Sale winning Racer's Edge mare El Rayo who sadly had issues - having just the one foal. Fortunately said foal is a very good one!
El Rayo's half-brother Tackleberry, a ¾ brother to El Questro, was Allison's first city winner whilst her dam Danto was a member of the Rob McGuinness stable - as was that mare's dam Neranto.
Allison's first winner Jo Bangles also raced in the McGuinness royal and light blue colours and it was a shame that Rob could not be on course to savour moment along with all of El Questro's other owners - "but I know they were all cheering hard at home," she said - her own celebrations on hold as she enjoyed takeaway pork sliders at home on Saturday night!